Chiropractic care is a holistic form of treatment that can help patients of all ages. Many people think of chiropractic care as primarily treating musculoskeletal conditions like whiplash and back pain. While chiropractic care certainly is good for treating these conditions, it can also be used to treat much more. Patients suffering from headaches, work injuries, sports-related injuries, joint pain and even illness can come to the chiropractor for treatment. Using all natural techniques, chiropractors treat a range of conditions.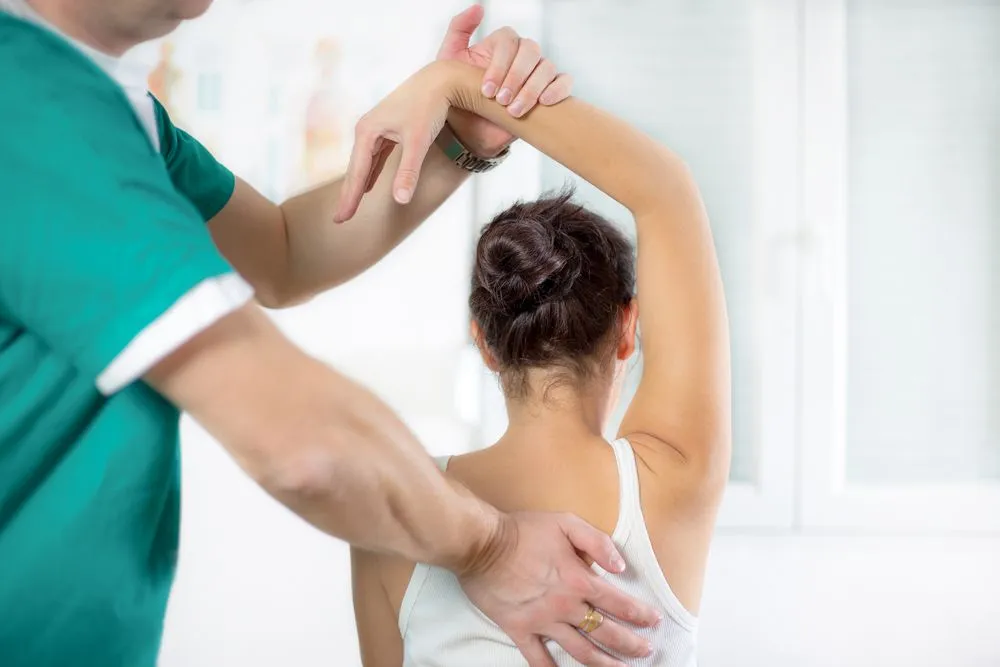 Chiropractic Treatments Offered
Chiropractic care usually involves manipulation of the spine to improve communication between the brain and the rest of the body. By realigning the vertebrae, chiropractors can reduce pressure on the spinal cord and prevent problems like subluxations. Subluxations occur when the vertebrae starts to press upon the spinal cord, causing disruptions in the central nervous system. Subluxations can cause signals from the brain to misfire, which can result in pain, problems with immune function and reduced efficiency of the body's systems.
Spinal adjustment is a painless experience that often involves cracking and popping noises in the back. These cracking and popping noises occur as the vertebrae are put back into realignment. In addition to spinal adjustment, chiropractors use a range of techniques to help restore patients to good health.
Massage therapy. Patients love this technique because it's relaxing and enjoyable, but there are also many practical reasons that chiropractors use massage therapy. This technique helps to reduce muscle pain and muscle tension, and also helps to improve circulation in injured parts of the body. For patients suffering from anxiety, massage therapy can help them manage these feelings and improve quality of life.
Stretches and exercises. Stretches and exercises help patients improve mobility and range of motion. After an injury occurs, stretches and exercises are often central to the rehabilitation process. This technique can be used to help pregnant women prepare for labor and can help seniors after a stroke to rehabilitate the muscles. For people who exercise regularly, stretches and exercises can help them avoid injuries and muscle strain.
Lifestyle advice. Many people contribute to their own muscle pain through everyday activities and by working in un-ergonomic conditions. Often, this happens without the patient ever being aware that they have caused their own pain. Chiropractors help patients to manage and avoid pain by adjusting their lifestyle habits.
Nutrition counseling. Eating right can help patients stay healthy and avoid illnesses. Proper nutrition is also important for weight management and maintaining a healthy exercise regimen. Chiropractors teach patients how to eat a balanced diet. For patients who are injured or ill, chiropractors recommend foods that can help patients reduce inflammation and return the body to good health.
As your chiropractor in Richmond VA, we treat a range of conditions, including:
Auto accidents. Patients involved in auto accidents can experience a range of injuries, from concussions to whiplash. We help car accident victims by making a proper diagnosis and beginning treatment right away.
Work injuries. Poor ergonomic conditions at work can cause muscle pain and musculoskeletal injury. We help patients through natural techniques like spinal adjustment and stretches and exercises.
Neck pain. Neck pain can be the result of lifestyle or because of an injury. We help patients identify the true cause of their neck pain and then administer treatment as needed.
Low back pain. Low back pain is often the result of activities like lifting heavy objects. We help soothe aching muscles and eliminate problems like subluxations.
Headaches. We treat headaches with massage therapy, spinal adjustment, and lifestyle advice.
Sports injuries. Sports injuries can cause muscle pain, bone pain, and chronic pain, depending on the circumstances. We help patients recover from their injuries and avoid injuries in the future.
Benefits of Chiropractic Care
Spinal adjustment can be safely done to nearly any patient, including infants and seniors. This flexible, natural form of treatment involves no medications and no invasive procedures, so patients suffer few or no side effects. In addition, chiropractic care is preventative. A spinal adjustment can help patients avoid injuries and avoid illnesses. In this way, seeing the chiropractor regularly can improve quality of life.
Contact Your Chiropractor in at Advanced Wellness Centre in Richmond, VA
At Advanced Wellness Centre, we use all natural techniques to help patients stay healthy and manage chronic pain. To make an appointment, contact us today at (804) 673-9355.
---
An Overview of Chiropractic Care from Advanced Wellness Centre
At Advanced Wellness Centre, we are here to serve the local people of Richmond, VA by providing access to advanced chiropractic care options. We understand that there are numerous people all over the country who have been looking for an alternative to traditional medicine. At Advanced Wellness Centre, we are here to provide exactly that. There are a few points that everyone should know when they are looking for chiropractic care in Richmond, VA.
Brain, Body, and Spine
What is Chiropractic Care?
Chiropractic care is a treatment option that focuses on manual therapy to help people recover from injuries and illnesses. A chiropractor has gone through four additional years of schooling after college to earn his or her degree as a Doctor of Chiropractic. A chiropractor uses techniques such as spinal adjustments to improve function and align the vertebrae in the spine to provide proper motion and relieve stress from the nervous system. This can help people recover from injuries and illnesses.
What Conditions Can Chiropractic Care Relieve?
There are numerous conditions that a chiropractor can treat. Some of the main conditions include:
Injuries from Auto Accidents: Those who suffer injuries in a motor vehicle accident, such as whiplash, can find relief from chiropractic care.

Work Injuries: Whether someone sits behind a desk or engages in manual labor, work injuries can happen. A chiropractor can help someone recover quickly and get them back to work.
Neck Pain: Neck pain can result from poor posture, making it hard to turn the head from side to side. A chiropractor can use manipulations to release the muscles and ligaments in someone's neck.
Sports-Related Injuries: While sports are a great way to stay in shape, people can also get hurt. A chiropractor knows how to treat sports injuries quickly and safely.
There are a few benefits of chiropractic care that everyone should note.
What are the Benefits of Chiropractic Care?
The two main benefits of chiropractic care that set it apart from traditional medicine include a lack of complications and side effects. Prescription medications can lead to serious side effects. Surgery can lead to complications. Instead of exposing someone to these risks, chiropractic care will leverage the body's ability to heal naturally. Using manual therapy, a chiropractor will simply place the body in a good position to do exactly that.
Come and Visit Us Today to Learn More
At Advanced Wellness Centre, our goal is to provide a comprehensive, well-rounded approach to healthcare to everyone who comes to see us. We know that you are getting tired of complications and side effects, so come and try a treatment option that steers away from all of this. Call us today at (804) 673-9355 to make an appointment with a compassionate chiropractor in Richmond, VA, or schedule online.
---
Doctor of Chiropractic

Originally from New York, Dr. Samantha Leal worked in the Richmond area as head Athletic Trainer at Monacan High School in Chesterfield. During her time as an Athletic Trainer, Dr. Leal had the opportunity to serve Richmond's youth athletic population through various sporting events such as the Jefferson Cup and local youth wrestling tournaments.Five years of chronic neck pain led Dr. Leal to chiropractic care, which finally gave her lasting relief and notable improvements in her daily life. She was inspired to combine her sports medicine knowledge with chiropractic, as a way to help people live and move pain-free. This led her to pursue her doctoral studies in New York where she attained her chiropractic degree with honors.After graduating magna cum laude from Northeast College of Health Sciences Dr. Leal returned to Richmond to practice chiropractic at the Advanced Wellness Centre.Dr. Leal believes that movement is a vital part of wellness and the key to keeping chronic pain at bay. She encourages all of her patients to move in ways that bring them joy as well as closer to optimal wellness.

Doctor of Chiropractic

Having grown up in Virginia, Dr. Keeley knew that she wanted to come back to the area after school to serve the members of her community. She has always had a passion for health and knew she wanted to go into a field where she could help people live optimally.

Clinic Director, D.C., CCWP

Graduating early from Life Chiropractic College at the age of 24, Lowry established his first practice in 1989. He quickly expanded into three practices training other doctors to care for patients with his unique patient management, addressing the chemical, physical and emotional stressors that cause dysfunction of the spine and nervous system.

Dr. Lowry has been featured on radio and television. He has been a guest lecturer at local businesses, churches, and schools. Dr. Lowry has also presented to interns at the Medical College of Virginia on the coordination of care between medical and chiropractic physicians. This lecture was telecast to numerous doctors throughout Virginia Commonwealth University to foster better interdisciplinary understanding.

Dr. Lowry is married with four children and has a keen interest in the health of the pediatric spine. The age of his patients has ranged from newborns to 95 years old. Recognizing the benefit of rehabilitating the spine by combining spinal manipulation with therapeutic exercises, his progressive practice now has a physical therapy department along with chiropractic so that outcomes are optimized.

Many area healthcare providers, including medical doctors, midwives, nutritionists, and acupuncturists both refer to and receive care from our office. Dr. Lowry has been in private practice for over 15 years, helping thousands of people.

Clinic Director, D.C., FIAMA, CCWP

Dr. Roodman has been in private practice for over two decades, helping thousands of people. Since graduating as valedictorian from Logan College of chiropractic in 1988, Dr. Roodman has published articles in Chiropractic Sports Medicine Journal and Athletics Magazine. He is a member of the International Chiropractic Associations Wellness Council and the National Headache Foundation.

In 2013, Richmond Magazine listed Dr. Roodman as a "Top Doc", nominated by his peers. Dr. Roodman was selected as one of the few east coast chiropractors to be a member of the North American Spine Society in 2004. This prestigious organization consists of practitioners from multiple specialties. He also completed acupuncture training through the International Academy of Medical Acupuncture in 2007. Dr. Roodman was certified in Dry Needling Technique by the Dry Needling Institute of Rockville, Maryland in 2011. Most recently, in 2014, Dr. Roodman completed the International Chiropractic Association's Certified Chiropractic Wellness Practitioner degree.

Recognizing the effectiveness of a multidisciplinary approach, Dr. Roodman's progressive practice now includes a physical therapy department along with chiropractic, fitness training, nutritional counseling, acupuncture, and massage all under one roof so that outcomes are optimized. Over 100 medical doctors including family practitioners, orthopedists, neurologists, internists, and general surgeons refer their patients to Dr. Roodman for problems like yours.
---
The Science Behind Chiropratic
"Between 60 and 90% of all our population's visits to doctors' offices are stress-related and probably cannot be detected, much less treated effectively with the medications and procedures on which the medical profession relies upon almost exclusively." – Herbert Benson, MD, Harvard cardiologist
At the Advanced Wellness Centre, our unique approach addresses the constant bombardment of chemical, physical and emotional stressors that create adaptive physiology in our bodies. Chemical stressors include toxicity from improper nutrition and the environment. Physical stressors include motor vehicle collisions, sports and work injuries, and repetitive motion injuries (even sitting!). Emotional stressors include relationship, career and school challenges.
Our bodies' natural response to stress is a perfect response. When chased by a bear, we need increased blood pressure, cholesterol, and cortisol, decreased cognitive function and digestive shutdown, because we just need to get away from the bear!
Unfortunately, the stressors of daily life often cause the same adaptive physiology as being chased by a bear, but we do not need the increased blood pressure, cholesterol, and cortisol, decreased cognitive function and digestive shutdown. This phenomenon is the underlying cause of much chronic disease we face in modern society.
Subluxation is one of the most common physical stressors, and Chiropractic care focuses on the removal of subluxation. Subluxation is the lack of normal movement or alignment between any of the 24 segments of the spine. This movement deficiency can produce localized pain, but more importantly, sends signaling to the nervous system that the body is under stress. This signaling creates the same stress response as if we are being chased by a bear.
Our initial focus is to remove subluxations and restore joint mobility by manually applying a controlled force into joints that have become misaligned or restricted in their movement. When normal movement is restored, localized pain is relieved, muscles relax, inflammation is decreased, and most importantly, healthy signaling to the nervous system returns. This return to homeostasis contributes to global health in addition to pain relief.
The Advanced Wellness Centre's evidence based approach combines spinal manipulation with rehabilitative exercises, nutritional counseling and stress reduction, and provides you with a most comprehensive, holistic wellness approach.
"The doctor of the future will give no medication, but will interest his patients in the care of the human frame, diet and in the cause and prevention of disease. ~ "― Thomas A. Edison
---

Conditions helped by Chiropractic
Most common conditions prompting people to start chiropractic include:
People continue because they become educated about the value "spinal hygiene" brings to their quality of life and function. Much like dental hygiene is commonly known to be healthful, more and more people are embracing spinal hygiene. Because each of us has a spine subjected to repetitive postural stresses (sitting too much or bending our head forward over a computer), whether it is the athlete (subjected to the macro traumas of sports) or homemakers, the pediatric or geriatric patient, chiropractic provides ongoing benefit. Leaders among healthcare providers in wellness coaching, the emphasis on lifestyle has always been a fundamental tenet of chiropractic. Diet, exercise and stress reduction are considered primary to overall well being. Prevention before intervention is the common goal of all the AWC providers! For more information about our Chiropractic services in Richmond, VA, call (804) 673-9355, or schedule an appointment online.
---

Chiropractic Testimonials
"My years as a prosecutor and public servant have taken a toll on me! I have so much satisfaction in my progress that I gladly travel from Petersburg to Richmond for my treatments. The care and concern for my well-being is demonstrated by every staff member, regardless of the department. There is no other location that offers the diversity of services coupled with the high level of expertise and professionalism. Dr. Lowry provides superb service! He makes sure that I have complete understanding of my diagnosis, treatment, and progression! The massage therapists have total control of knowledge and technique! The staffs with laser, decompression, and other modalities are extremely intelligent and professional. The best acupuncture specialist in the world and remarkable! I continue to heal in body and mind here!!" -Cassandra C.
"Dr. Bills is the best chiropractor I have ever seen. I am no spring chicken, and I have been getting chiropractic care all of my life. I am a CrossFitter and Dr. Bill's chiropractic style fits my extreme exercise program. I have referred other CrossFitters, friends and family to Dr. Bills without hesitation. I have seen some really good chiropractors, but Dr. Bills is a great addition to the Advanced Wellness Centre. He takes an interest in his patients, and you don't feel like a number you feel like a person with a name not a number. He and his assistant Kerry work seamlessly as a team!" -Tammy B.
"I strongly recommend chiropractic; it was a surprise that it worked much better than medications. You can't beat getting better and feeling good without medication." -Bill D.
"I am amazed at the improvement that I have had. I have not had a full night's sleep in 5 years, in spite of going to other doctors in other states. Because of my heart condition, I cannot take pain killers, which is good because I got the root cause of the problem fixed, and not just covered up. My wife even notices that I have more energy and am happier without the pain." -James F.
"It's amazing! I can move so much more easily. My pain level has been reduced more than I could have ever believed it could." -Bonnie D.
"After being rear ended on I-95 I was suffering with a serious back injury which limited my once very athletic lifestyle. I had constant pain, migraine headaches daily and had been out of work. Dr. Lowry examined me and took the time to educate me on how chiropractic treatment would help my condition. My recovery was remarkable, within two months I was back to work, jogging daily and the pain and headaches were gone." -Calvin J.
"I couldn't even go to a restaurant because my back would begin to hurt after sitting for 30 minutes. Since I received chiropractic care at the Advanced Wellness Centre, I have been able to sit through multiple plays without feeling the need to get out of my seat." -Donna B.
"The doctors and staff at Advanced Wellness are really about helping in your WELL-BEING. I don't want to get too technical, but am a big fan of Dr. Roodman and his staff. With alignment often comes relief, but on top of that you get genuine care, it often has a sense of family attached to it there at the AWC. Just the other day I saw a gal in there that used to be a receptionist, and it was like seeing an old friend. Check it out, and COME BE WELL!" -Anonymous
"I have to say I have really enjoyed each visit and seminar I have attended at Advanced Wellness. Everyone is so kind and helpful! I have learned so much information from the two seminars I have attended. I have also had the opportunity to be adjusted by each doctor and they each have been amazing and helped me greatly. Everyone at Advanced Wellness really takes the time to listen to your needs and gets to know each client. Thank you Advanced Wellness team!" -R.
"I was happy with how quickly I got a 1st appointment. Surprised at the thoroughness. Pleased that I got an adjustment and stunned at the intensity/thoroughness of the 1st adjustment. All in a good way. Feeling better about getting my life back. -Adam D.
"Everyone is very helpful and makes sure I always have the best experience possible. Everyone assisting the doctors does a great job with stretching and massage. So much so that I don't want to leave! And Dr. Roodman is the best. I have been coming to him for many years and it is nice that he cares personally about me and how I feel. And they work with me when it comes to scheduling since I have to rearrange a lot of times as to when I can come in." -Kristy M.
"It is frustrating to be hurting and not seeing the light at the end of the tunnel. After today's session, I felt that I can start running again." -Kevin H.
"I have nothing but praise for the staff at the Advanced Wellness Centre. Each person working with me appeared very interested in my care and my progress. Upon arriving there initially I had no idea of what bad shape I was in until receiving the services of Dr. Roodman (Chiropractor) until somewhat skeptically following his recommendation of services to aid in my recovery from a car accident in which my vehicle was rear ended. His chiropractic services, as well as the massage therapy/ strengthening and stretching exercises provided by various staff have made a major difference. So much so that I hope to make the exercises an ongoing part of my daily routine. I truly have appreciated their great team approach in getting me back in stride again!" -Anonymous
"When I first got to AWC, I almost couldn't walk! Now, with everyone's care and dedication to my wellness, I'm better than normal! And everyone is just so, so kind and knows my name!–and that's why I keep coming back. Y'all rock." -Erin S.
"I have been a patient for 3 months. I was barely able to be up and off the sofa when I entered the building. I had been in traditional medical care for 7 months prior to that with no relief and driving medical costs. I now am up all day, working in my garden some, playing bridge a couple times a week, and keeping up with my home and social friends." -Deborah K.