We here at the Advanced Wellness Centre offer a comprehensive fitness training program specific to our client's imbalances and areas of deconditioning. Our highly trained staff emphasizes scientifically structured workout programs designed to maximize fitness training, health and general wellness.
As a client working with our certified and highly trained personal trainers you will have the unique opportunity to have the support of our formidable team of health professionals at your disposal. This includes chiropractors, nutritionists, licensed massage therapists, acupuncturists and physical therapists.
Benefits of Exercise and Fitness
According to the Centers for Disease Control (CDC), the prevalence of obesity among US adults in the years 2011 -2014 was a staggering 36.5% (https://www.cdc.gov/obesity/data/adult.html) Exercise decreases the risk of obesity which is itself a risk factor for diabetes type 2, hypertension and elevated cholesterol and triglycerides.
A fitness regimen also helps decrease the risk of coronary heart disease, strokes, depression, Breast and Colon cancer and premature death. Fitness training not only decreases the risk of major diseases but also increases brain function and mental/social well-being.
Those who exercise frequently report feeling better physically, looking better generally and sleeping better. A fitness program can also lead to a stronger sense of purpose, decreased stress and stronger relationships and social connections. In addition, those who are "in shape" are much more likely to enjoy their leisure activities and avoid injuries.
Most importantly, according to an article in Science Daily, a study in the American Journal of Preventive Medicine showed that those on a regular fitness program statistically will live up to 5 years longer than those who don't exercise (https://www.sciencedaily.com/releases/2012/12/121211082810.htm).
Chiropractic Facilitation
Chiropractic care allows for the most effective workout possible. Through chiropractic treatment allowing for proper spinal alignment, muscular restrictions can be lessened and pain in the back, head and neck can be reduced or prevented allowing for increased flexibility and a more effective workout.
Debilitating conditions like sciatica and osteoarthritis are some of the other conditions that can be successfully treated by a chiropractor. Once these conditions are successfully dealt with, a proper and effective fitness program can be instituted.
Functional Movement Screen
To develop the most efficacious individually based fitness program, our fitness team uses the Functional Movement Screen (FMS) to determine everyone's problem areas and limitations. Once these are determined, specific exercises are utilized to strengthen these areas as part of a global fitness program.
Contact Our Fitness Providers in Richmond, VA
There is nothing more important than maintaining health and mobility and avoiding disease and illnesses. Many steps can be taken through chiropractic care at Advanced Wellness Centre to allow for maximum participation in a personally sculpted fitness program. Prevention of illnesses enhanced strength and increased flexibility and endurance and a longer more fulfilled life are just some of the goals that can be accomplished through the Advanced Wellness Centre fitness program. Advanced Wellness Centre is located at 3536 Grove Avenue, Richmond, VA 23221 Phone 804-673-WELL (9355). Call today, or schedule an appointment online to begin maximizing your health and fitness.
---
Personal Trainer

Anna Pincus graduated with a B.S. in Biology from Virginia Polytechnic and State University, VA in 2017 and a M.S. in Exercise Science at Old Dominion University, VA in 2019. During that time Anna taught Human Anatomy and Physiology Lab at Tidewater Community College in Norfolk, VA and acquired an internship with CHKD Sports Performance in Virginia Beach, VA training high school and college D1-D3 Athletes through their off-season programs. After graduating with her masters in Exercise Science, Anna went on to receive her Strength and Conditioning Specialist Certification through NSCA, using that knowledge to assist in the creation of HIIT programs and sport specific training regimens for a Climbing Center in Norfolk, VA. While her training experience includes acceleration, speed, plyometrics, agility, and resistance programming, Anna's clientele ranges from athletes to individuals suffering from chronic pain. Her main goal as a Personal Trainer and Exercise Therapist is to promote a healthy lifestyle for each client through functional movement and exercise.
---
The Science Behind Personal Training
"AWC's certified fitness trainers are here to help you reach your fitness goals."
As fitness professionals, our trainers focus on more than just encouraging physical activity. We have a responsibility to help guide and motivate you to improve your health and wellness by promoting a holistic approach to health encompassing the mind, body, and spirit.
Your fitness training program starts with a functional movement screening so that your fitness trainer can identify your individual fitness level and determine the starting point that will maximize your benefits while protecting your body from injury.
Once your fitness level is determined, your fitness trainer will create your personalized fitness program utilizing the five components of physical fitness:
Cardiovascular Endurance: the efficiency with which the body delivers oxygen and nutrients needed for muscular activity and transports waste products from the cells.
Muscular Strength: a type of resistance training designed to increase the greatest amount of force a muscle or muscles can exert in a single effort.
Muscular Endurance: a type of resistance training used to increase the ability of the muscles to perform repeated movements of extended periods of time.
Flexibility: the ability to move the body through an entire range of motion without restrictions.
Body Composition: the percentage of body fat a person has in comparison to their total body mass.
By combining cardiovascular endurance training coupled with resistance training, your outcome will be maximized, resulting in greater effects on improving your body's overall composition.
Call today to schedule your Functional Movement Screening and get started!
804-673-WELL
---
Conditions helped by Personal Training
Most common complaints prompting people to start with fitness include:
In addition to feeling and looking your best, having fitness as an active part of your life you can expect to enjoy these additional benefits…and much more!
We invite you to call to learn more and schedule your complimentary tour of the Advanced Wellness Centre as well as our fitness facility in Richmond, VA! 804-673-WELL.
---
Personal Training Testimonials
Success Stories:
Paul Davis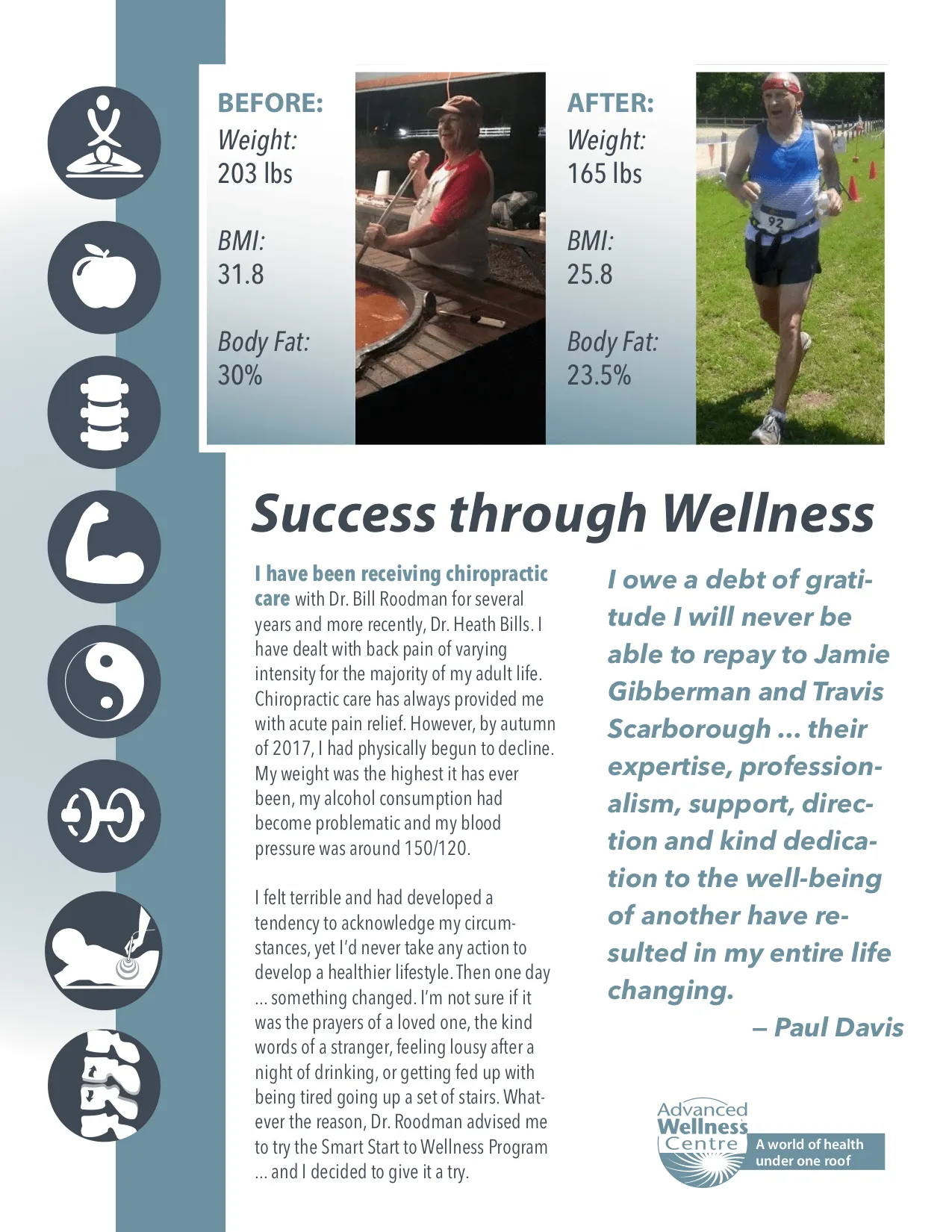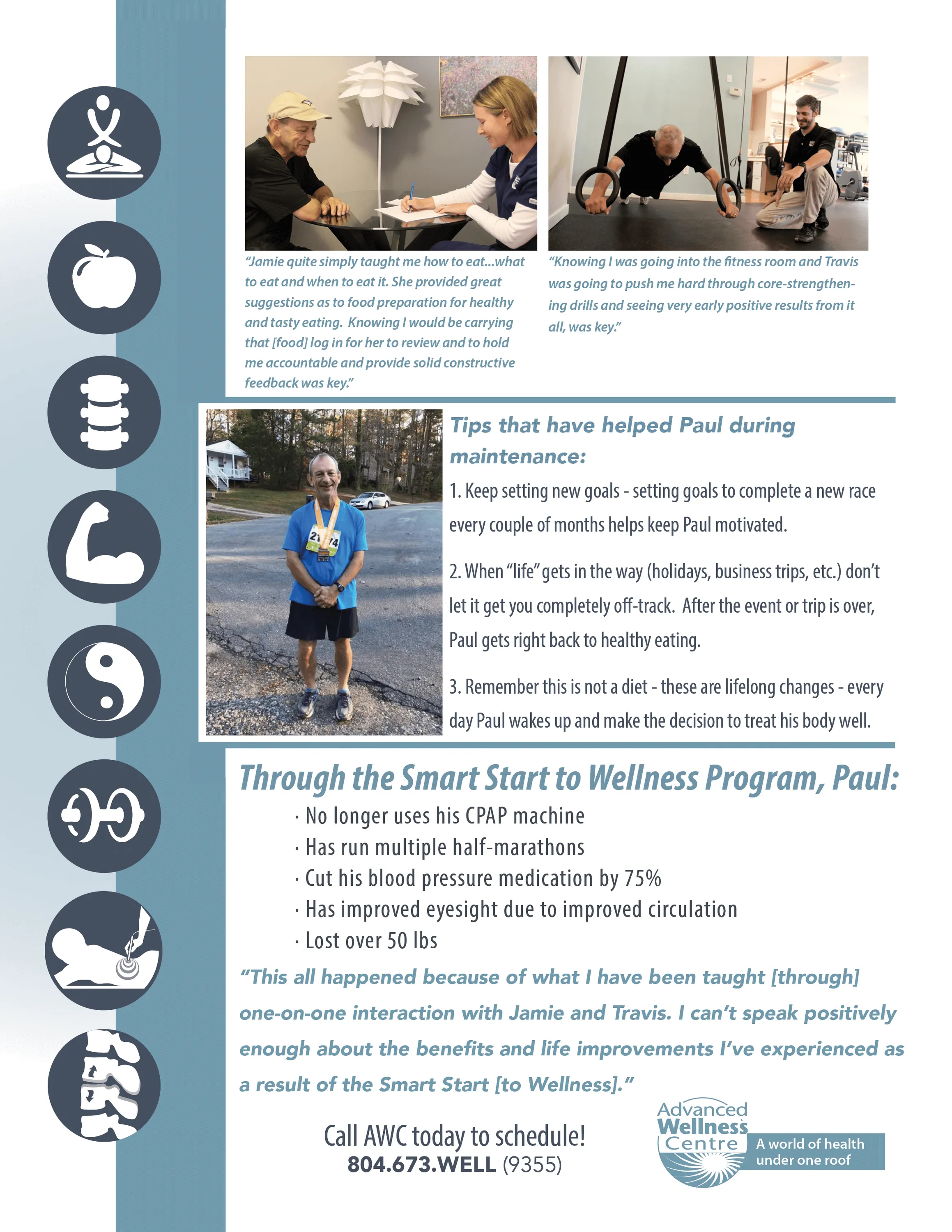 ---
"If I look back over the past three years, one thing sticks out as the most significant life change. That one thing is trusting Aaron Grubb to guide me from being an inflexible, imbalanced, and frustrated person to having tremendous flexibility, balance, and an overall higher level of strength and happiness. From the first session, I knew that a significant journey had begun. I went from being afraid to get hurt – to being strong, doing Pilates, rowing at home, hiking, and running around the yard with my son.

Aaron's workouts build upon one another, change quickly, keeping you guessing, and push you beyond what you ever thought was possible. The confidence that comes from getting to know your body the right way positively impacts every other aspect of your life. It has been an amazing three years. I am excited about what the next three years will bring."
- Nate C.
---
"I've been training with Aaron for two-and-a-half years now, twice a week every week. That fact alone is incredible, considering I've never consistently worked out for longer than a month and hated sports growing up. When we started, my mobility wasn't great and I was at my heaviest weight (260lbs). Today, I feel strong, relatively limber, and am inching closer and closer to 220lbs. (nearly 40lbs down from our starting point!) More importantly, my body composition has changed. This success isn't just because Aaron encourages me to work hard (I'm drenched by the hour's end!), but also because he trains you to work smart – setting realistic goals, pushing to new limits when your body is ready or taking a rest when your body needs one, and mixing up the workout so no session is like any other before. Training with Aaron has changed my life, health, attitude, and outlook."
- Eric G.
---
"I have been working with Aaron for over two years. He challenges me with a skilled balance of patience and hard work and inspires me to reach new goals with every session. His work-outs are designed to enable me to reach my full potential. His knowledge, passion, guidance, ability to listen, and wit have made two years and counting an amazing and very worthwhile experience."
- Cathy W.
---
"I'm 60 years old. When I started working with Aaron, I had not exercised in years. I had a troublesome left hip, and my neck had always been a weakness for me as well, resulting in a lot of headaches. I am a full-time artist. I realized it was now or never, so I signed up for fitness sessions with Aaron Grubb. My greatest goal in working with Aaron was to be able to continue to make art for the "rest of my life," which would require a strong core. Aaron has patiently worked with me for months, and I am so much stronger, in my core, back, neck and hip--really everywhere. I no longer have neck pain and my hip is so much stronger, as well. Aaron is good-natured and encouraging, and doesn't ever lose his cool when it takes repeated instruction to show me how to do an exercise. He is the best combination of pushing me to succeed and making it fun in the process by being so personable. I am someone who can easily "forget" to exercise, so finding such a great coach in Aaron is a blessing. I want to keep working with him for the rest of my life!"
- Barbara I.
---
"I used to have a very active job and I worked out regularly with weights to maintain the level of strength I needed for my job. About eight years ago, I took a less physical job, and stopped working out regularly. At first, I didn't notice any changes, but all the while my body was gradually weakening. I began to have more pain, I gained weight, and I noticed I couldn't do things I used to do easily. When I reached the point that climbing the stairs in my house was wearing me out, I knew it was time for a change."
---
Weight training has helped get me back on the right track. It wasn't easy to get started; but the AWC trainers were patient and made me feel like I really could lift that dumbbell one more time, and sure enough, I did manage one more rep. I am stronger now and have fewer daily aches and pains, I have lost some pounds, and I feel mentally sharper. I can easily climb the stairs to my sister's third floor apartment. I started yoga classes and my flexibility is returning. Now, I am focusing on adding more cardio work to my life. I want to be able to catch my grandson when we play chase!"
---
It's easy to think that you don't have time for exercise, or that you get enough exercise in your daily life, and for some people that may be true. But for me, regular exercise is a requirement for a happy, healthy life."
- Lynn G.
---
"I have worked out with personal trainers at various stages of my life. I have to say that working with the fitness team at AWC has been extremely helpful. They have taught me to exercise smarter, and sometimes less is more – which was a huge AHA for me. Also love the small group sessions. The trainers truly give first class service – and I get the results!! Thanks!"
- Susie G.
---
Fitness: Personal Training
In Pursuit of Optimal Fitness: Personal Training at Advanced Wellness Centre in Richmond, VA
If you're prone to musculoskeletal injury, easily fatigued, overweight, or just not as healthy as you'd like to be, you should look into a prime method for optimizing your fitness: personal training at Advanced Wellness Centre in Richmond, VA. Our integrated health and wellness services include personalized fitness training programs that complement our chiropractic care and other natural healing services.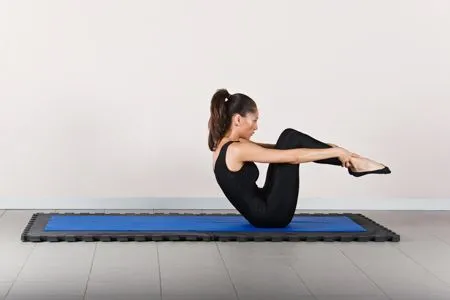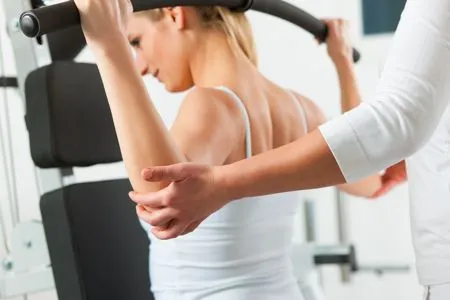 What Personal Training Can Do for Your Health
The advantages of physical fitness are well known -- and well worth whatever regular effort and discipline it may require. Prescribed exercises and an overall increase in physical activity can:
• Boost your metabolism for easier fat burning and extra energy
• Improve your cardiovascular performance
• Reduce cholesterol levels
• Increase muscle strength, including the vital muscles that support your joints and spinal column
• Improve your range of motion by lubricating joints and lengthening connective tissues
• Help control stress levels and normalize mood
• Boost systemic functions, including immune resistance, to help you resist diseases and disorders
A Personal Training Regimen from Our Richmond, VA Chiropractors
If you think about it, it only makes sense that your chiropractors at Advanced Wellness Centre would also offer personal training. For one thing, many musculoskeletal alignment problems, acute injuries, and chronic pain issues are related to weak and/or tight muscles that inhibit balance and support. A customized personal training regimen can help you correct these imbalances so your chiropractic sessions will yield more lasting benefits. Exercises aimed at weight loss can also help by reliving strain on weight-bearing joints. Our wellness centre also focuses on whole-body health. Personal training integrates beautifully with massage therapy, nutritional counseling, and other services we offer, giving our patients a new path toward a lifetime of optimal well-being.
The first step in getting started with personal training at Advanced Wellness Centre is an evaluation called a Functional Movement Screening. Our personal trainers will administer the screen to evaluate your range of motion, body symmetry, weight, stance, gait, and strength. This gives us a "snapshot" of your current fitness to use as a baseline for creating your personal training regimen. Our personal trainers can then put you on a series of exercises aimed at improving specific areas of your fitness as safely and productively as possible to help you address your specific challenges, needs, and goals.
Ready to Get Fit? Contact Our Advanced Wellness Centre Today
From improving your athletic performance to improving your functional ability, there's no wrong reason to increase your physical fitness! If you're ready to get fit, call Advanced Wellness Centre at (804) 673-9355 to arrange for personal training in our office located at 3536 Grove Ave, Richmond, VA 23221.